Due to the high demand on the hire equipment and inceasing requests to purchase, we are now happy to offer new and used giant games for sale!
We are currently focusing on the most popular items which are detailed below, but if there is an item in the hire list which you would like to purchase then drop us an email: 
WGG Sales
The following prices are retail prices. Please email
WGGwholesales
to setup a wholesale account.
connect 4, chess, jenga, snakes and ladders, ludo, skittles, noughts & crosses
GIANT CONNECT 4 -
4 models available, standing approx. 3', 4', 5', 5'6" tall. (0.9m, 1.2m, 1.5m, 1.7m)
5'6" (1.7m) model pictured.
Constructed of 8mm treated marine ply. Discs made of 8mm banded corregated plastic. Takes approximately 2 minutes to set up.
Detachable feet for flat storage. Storage / Carry case available for Williams Flightcases.
Models 1-4 cost £199, £235, £255, £275
.
WFC flight / storage cases for models 1-4 cost £168, £183, £205, £215. 10% discount on case if purchased with the Unit.
GIANT SNAKES & LADDERS - the only place you can be eaten by a snake and live to tell the tale!
PVC 3m x 3m board and inflatable dice. and the players become the counters, throwing the dice between them to determine how many moves to make. Children and adults both love this game, very popular.
£45 + DELIVERY (£5 P&P)
LUDO - a classic family game, where better to play a family game than at a wedding!
PVC 3m x 3m board and 2 inflatable die. Children and adults both love this game, very popular.
£45 + DELIVERY (£5 P&P)
GIANT CHESS      PVC board with plastic screw together pieces, suitable for filling with sand to weigh down if required. Pieces can be sold separately if you already have a patio or tiled room suitable. King stands just under 3' tall.

Plastic Set is £325, board is £35. Chess set and vinyl/PVC board are £350. DELIVERY (£10 P&P)
BUDGET GIANT CHESS     Made of coated marine ply, flat sections interlock to form playing pieces. Three sets - 2', 3' & 4'. Played with the same board as the standard giant chess (sold separately - £35).

2' - £190; 3' - £220; 4' - £250. DELIVERY (£10 P&P)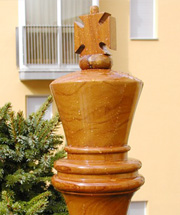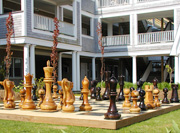 SUPER SIZE CHESS - King stands an impressive 48" tall (4 foot) and is hand made from Indonisian Teak wood. Chess set consists of 32 chess pieces and 64 black/tan tiles that make up the board. £2,500 including delivery 
£295/£485 to hire for a day/week. If after hiring the set you are interested in purchasing a set with an 8", 12", 16", 24", 36", 48", 72" King then a 10% discount will be applied to the purchase price of the set.
To Buy:
08 inch King =  £215

12 inch King =  £360

16 inch King =  £715
24 inch King =  £1,085
36 inch King =  £1,785
48 inch King =  £2,500
Only 8" and 48" sets are held in stock. Please allow 8 - 21 days for delivery. Above prices exclude a playing board and are subject to variation in £-US$ exchange rate. Please email for price confirmation. Decorative pieces can be purchased individually, and engraved as required.

Bespoke set designs also available. For further questions on the available chess sets email: WILLIAMS CHESS SETS
GIANT JENGA - Has proved very popular so far, being requested for every hire done. Starts at 1 metre and could build to over two metres, however our record is only 1.8m so far!

JENGA GAME:    £95 + DELIVERY (£5 P&P 3 DAY/ £7.50 NEXT DAY)   CARRY CASE:    £10

(GIANT GENGA PICTURED)

DEATH JENGA! - Starts at just over 1.4 metres and can require a step ladder / nerve / bravery!!!

This game is Excellent fun, but is for adults only. It really does come down with quite some force! In tests we have managed to get it to almost 3m with the help of a step ladder! Not recommended for hire at events where youngsters are going to be running wild.
An 80cm tall white picket fence and gate with a child safety lock is available to stop small kids getting squashed! This game is especially for grown up kids that should know better! ADULTS ONLY.
JENGA GAME:    £135 + DELIVERY (£5 P&P 3 DAY/ £7.50 NEXT DAY)   CARRY CASE:    £10
We also have the following giant games for purchase:
NOUGHTS & CROSSES, LIMBO, TWISTER, DOMINOES, SKITTLES, CROQUET
If you have any questiosn then please drop us an email: 
WGG Sales