Giant Party Games

HIRE GIANT PARTY GAMES & BOUNCY CASTLES, EXCELLENT FUN FOR WEDDINGS, PARTIES AND BBQs!
bouncy castles sumo suits giant connect 4 chess jenga snakes and ladders ludo skittles noughts & crosses croquet
We now have giant party games and inflatables for you and your guests to enjoy! All giant games are for sale as well as to hire,
TRADITIONAL GAMES
GIANT CONNECT 4 - stands approximately 5' tall. Fantastic fun - the favorite. £45 a day
GIANT SNAKES & LADDERS - the only place you can be eaten by a snake and live to tell the tale! £20 a day
The board is 3m x 3m and the players become the counters, throwing the dice between them to determine how many moves to make. Children and adults both love this game, very popular.
GIANT LUDO - a classic family game, where better to play a family game than at a wedding! £20 a day
GIANT CHESS - An impressive set. £90 a day
Apart from little children running off with the rooks, games on this set often continue through til dusk.
Even the statues got involved!
SUPER SIZE CHESS - King stands an impressive 48" tall (4 foot) and is hand made from Indonisian Teak wood. Chess set consists of 32 chess pieces and 64 black/tan tiles that make up the board. The chess set alone retails for a fraction over £2,500 including delivery and is £295/£485 to hire for a day/week. 
If after hiring the set you are interested in purchasing a set with an 8", 12", 16", 24", 36", 48", 72" King then a 10% discount will be applied to the purchase price of the set.*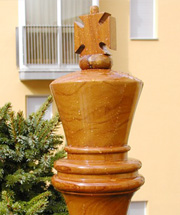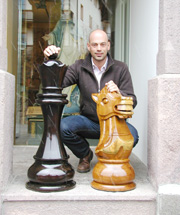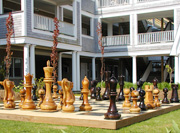 *all sets other than 8" and 48" are not held in stock and take between 8 and 21 days for delivery. Decorative pieces can be purchased individually, and can be engraved as required. Bespoke set designs also available. For further questions email: CHESS SET ENQUIRIES
GIANT JENGA - Has proved very popular so far, being requested for every hire done. Starts at 1 metre and can build to over two metres, however our record is only 1.8m so far! £30 a day
DEATH JENGA! Starts at just over 1.4 metres and can require a step ladder / nerve / bravery!!! £50 a day
This game is Excellent fun, but is for adults only. It really does come down with quite some force! In tests we have managed to get it to almost 3m with the help of a step ladder! Not recommended for hire at events where youngsters are going to be running wild, however it does come with an 80cm tall white picket fence and gate with a child safety lock on to stop small kids getting squashed! Especially for grown up kids that should know better! ADULTS ONLY.
We also have the following giant games for hire/purchase:
NOUGHTS & CROSSES, LIMBO, TWISTER, DOMINOES, £20 a day per game.

SKITTLES, CROQUET - £25 a day per game.

 
PRICING
Prices for the traditional games are between £15 and £100 each (excluding the super size chess).
Three packages are available:
Classic set - Connect 4, Giant Chess, Snakes & Ladders and Giant Jenga.  By far the most popular option. Charge is £155 for the day, which represents a 15% discount on the combined individual prices (£185).
Discounted array - Choose more than 4 games and a 10% discount will be applied (excludes delivery)
Greedy Gamer Pack - If you hire all the games we offer a discounted package price of £285, which is a 15% discount on combined individual prices (£335), includes Giant Chess and Giant Jenga.

To upgrade 'Greedy Gamer Pack' to include 'Giant Jenga' and 'Death Jenga!' (over 16s only!) is an additional £35 (30% discount).
To upgrade from 'Giant Chess' to the magnificent hand carved and varnished/painted wooden 48" 'Supersize Chess' is an additional £205 (30% discount).
If you are interested in hiring any of the games above email GIANT GAME ENQUIRIES, or give us a quick call, see CONTACTS.
INFLATABLE FUN!
We supply:
 ADULT BOUNCY CASTLES, GLADIATOR DUAL,
BOUNCY BOXING, ADULT SLIDES
SUMO WRESTLING SUITS & MAT
Prices for the Inflatables start at £75 (Sumo Suits and BATTLE ring) and go up to £120 for the ADULT SLIDE.
A 15% discount is offered if more than 1 item is hired.